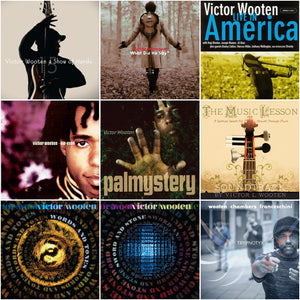 Vix Records Collection- 9 CD's!
Regular price
$110.00
$0.00
Here's a good question: "Why not purchase all nine of Victor Wooten's CDs for a discounted price." 
Hmmmmm. Thinking about it?
Well, here's a good answer: "Ok, I'll do it!"
Even if you have some of these titles already, reach out to a friend. They'll thank you for the gift and so will I. It's a great way to spread the love. You can't go wrong with this offer.
We thank you for your continued support and listening.
Included in the set:
A Show of Hands 
What Did He Say
Live in America
Yin Yang
Palmystery
The Music Lesson Soundtrack
Words and Tones

Sword and Stone

Trypnotyx
---
More from this collection