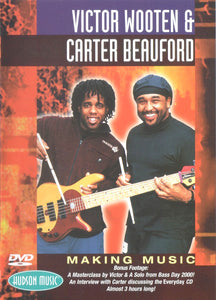 Victor Wooten & Carter Beauford: Making Music DVD
Regular price
$15.00
$0.00
 This DVD features two of the most creative musicians in contemporary music.  Victor and Carter have known each other since childhood, however Victor's "Yin Yang" album was the first project that they had ever recorded together.
Hudson Music filmed two days of these incredible sessions for an inside look as two great songs, "Zynergy" and "Resolution" are introduced, developed, and recorded. It's a fascinating process to watch when players of this caliber are involved.
Also included is material from an additional shoot in NYC and special DVD features which feature a master class by Victor, plus a brilliant solo from his performance at Bass Day 2001, and an interview with Carter where he discusses the "Everyday" sessions, odd time signatures, warm-ups, and much more. Guest include, Bela Fleck, Jeff Coffin and Joseph Wooten.
---
More from this collection