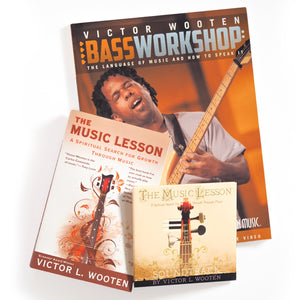 Bass Inspiration Bundle
Regular price
$50.00
$0.00
This bundle will inspire bass players at all level. Read about how Victor got to where he is today in The Music Lesson book and get firsthand direction about his playing with the Bass Workshop Book including 4 hours of instructional downloads.  The Music Lesson Soundtrack is a great accompaniment to either. 
The Music Lesson Book
The Bass Workshop Book
The Music Lesson Soundtrack
Over 4 hours of instructional videos

Bass Workshop Book
Part 1 of this book deals with many of Victor's concepts and approaches and outlines his ten essential elements of music including such important and under-emphasized areas as emotion and feel, dynamics, tone, phrasing, leaving space, and listening.

In Part 2, the lessons use music notation, tablature, and video footage to cover such key topics as warming up and hand-strengthening, tone, harmonics, thumb technique, tapping, looping, and soloing. This section is a more "how to" approach with hands-on demonstrations. Throughout, Victor underscores this vital material with a "groove first" ethic, as well an accent on being musical and creative—three mandatory ingredients to becoming a highly-sought-after professional bassist. All of which makes Victor Wooten Bass Workshop a must-have tool for bass players at all levels.

Includes over 4 hours of online video.
Includes instruction and a bonus chapter from Anthony Wellington.
---
More from this collection